COVID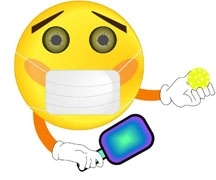 IMPORTANT COVID INFORMATION
Lakehead Pickleball Club will be following the recent regulations announced by the Ontario Government Premier regarding vaccination requirements.
"Facilities used for sports and fitness activities and personal fitness training, such as gyms, fitness and recreational facilities with the exception of youth recreational sport;"
As of October 22, 2021 all pickleball players who play indoors will need to produce proof of vaccination. Players are encouraged to ensure they have the proper paperwork before they go to an indoor site.
Indoor Play Procedures – COVID Requirements
PLEASE READ THE FOLLOWING CAREFULLY. Remember nothing is written in stone, changes if needed can be made:
The day will be divided into time slots, players can only play in one slot per day unless there is space.
Only 24 players will be allowed in each session.
On Arrival
Masks are to be worn at all times except when playing
Disinfect hands
Sign form (disinfected pens in holder)
Only handicap washroom will be available for use.
Nets to be set up and taken down by 2 people only, disinfect your hands before and after
Personal Hygiene
Wash or sanitize hands often before and after each game, for at least 20 seconds
Avoid touching hands to face
Wear protective eyewear if possible
Remember proper hygiene.
Try to refrain from blowing your nose, coughing, sneezing while on or near the courts Cough and sneeze into tissue, and dispose safely
Avoid touching doors etc with your hands
On Court
Everyone will use a disinfected ball for play

Use that ball when you go on court
Return to container when you leave court
If a ball strays to another court, tap back with foot or paddle, not hands
When finished for day, place ball in used ball container.

Do not share paddles or other equipment
Avoid physical contact with players (e.g. handshakes, fist pumps, elbow bumps) .

Off Court
Disinfect hands after each game/re-enter gym
Keep chairs 2 m apart. on sideline.
Bring your own water bottle and don't share (
Maintain physical distancing when not playing
Keep in mind our goal of mixing up teams as much as possible.

**PLEASE remember that it is a personal choice to play or not to play. If you feel vulnerable to the virus or feel uncomfortable with the playing situation, please don't play.*