Welcome
Welcome to Strathmore Pickleball Club. This is where you register for and pay for membership to our club, Pickleball Alberta and Pickleball Canada.
You will see four separate charges at the end of the registration process. They are:
$20.00 for the Strathmore Pickleball Club ( our year runs from Jan 1 to Dec 31)
$5.00 for Pickleball Alberta
$10.00 for Pickleball Canada
A small processing fee for credit card processing and system development
---
Club Schedule and Playing Times 2022
Our club uses SignupGenius for club to see, number signed up days and times, we have social play, open play and competitive play.
It is important that all new and past members have an "active" Sign Up Genius account. Please log into your account in Sign Up Genius to check. If you cannot access you Sign Up Genius account please contact Marlys Lein - Marlys.lein@icloud.com.

Make sure you check the times you have signed up to play. If you unable to play in the date you have signed up for, make sure you delete your name so others can sign up.
https://www.signupgenius.com/g...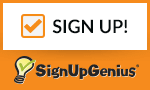 ---
2022 Court Clean Up Crew