Registration Details:
MPC Spring Registration for
Pickleball at the Athlete Institute
Registration:
Is open for 2024 members to register for the Spring session at AI.
By completing this registration form, you are committing to paying, within 24 hours, the registration fee of $80 + HST ($90.40) via etransfer to <MonoPickleballClub@gmail.com >.
Details and Fees for Spring Session:
Spring Session - 6 Weeks: March 25 - May 3, 2024, FEE: $80

(+ HST)

There will be 10 – 2 hour "play slots" each week, 9am - 11am, 12:30pm - 2:30pm daily, Monday through Friday. Most time slot will have 4 courts with a maximum of 6 players per court
Time slots: 9am – 11am and 12:30pm – 2:30pm daily
Weekly Sign-up to play 3 times becomes available 3 days in advance of the coming week
If your schedule changes after sign-up you must cancel asap, no later than 2 hours before the beginning of play time
You may sign up for additional plays 2 hours in advance of each play time, where space is available
Daily play may include Round Robin, Leagues, Level Play, Open Play, etc based on interest and volunteers to administer
You will be advised of the weekly sign up procedure when it is confirmed
Please direct any questions to < MonoPickleballClub@gmail.com >
Payment Procedure:
Please submit payment via etransfer once your registration has been completed.

Fee for the Spring session, March 25 - May 3, 2024 , at Athlete Institute is $90.40 ($80 + $10.40 HST).
Please make your payment through eTransfer to:
MonoPickleballClub@gmail.com
Additional Documents
Mono Pickleball Club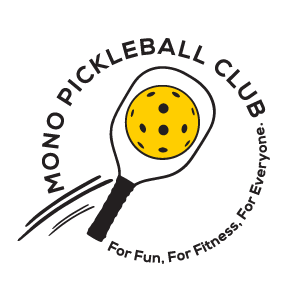 Athlete Institute - Playing Format
When you register for Spring play at the Athlete Institute, you will be asked to indicate your level of play as part of the registration process. The data has shown that there are 4 main levels of play: Beginner/Novice, Early Intermediate, Intermediate/Advanced Intermediate, and Advanced. With the rapid growth of our membership, our club now requires that a system that will enable the sessions at the Athlete Institute to run for the maximum benefit of all participants.
The format of the sessions set out below will enable participants to play at the skill level they indicated and can demonstrate, to be able to grow, develop and demonstrate their skills, and to experience fun and a positive time.
Format of Athletic Institute Play for the F/W/S Session(s)
All members of MPC agree to play the game with the utmost respect and consideration for other players, and the rules of the game. Members further acknowledge that the goal is to provide a safe environment where all players can play the game to the best of their ability, to learn and to have fun!
● MPC will be using a court scheduling app - all participants must use the scheduler and pre-book their 3 slots each week. Details will be provided once the Board has confirmed which scheduling program will be utilized.
● If you are a Beginner/Novice player, you will be assigned to play on a designated court with players of similar skills if numbers permit. We have volunteers who will assist with skill development/learning the rules of the game/understanding the strategies, etc. Players are asked to respect and follow the instruction of these volunteers. In order to move up to an intermediate court, players will be required to demonstrate proficiency in skills based on the matrix (MPC Skills Matrix_Draft) adapted from Pickleball Canada.

NOTE: Based on registration to date, it will be necessary to assign specific days and times each week to ensure sufficient numbers for designated courts for specific levels/activities (e.g.; beginner/novice, league play, round robin).

● Similarly, players who are Intermediate/Advanced Intermediate will need to be able to demonstrate advanced level skills in order to play at the Advanced level.
● The format of play on each court will typically be Round Robin, Open Play or variations of these. Games may be timed to allow sufficient court time for all.
● At the end of each game all players must come off the court. A rotation such as a 'paddle box' may be used in order to ensure a fair rotation of participants.
● Each session will have a volunteer Court Monitor who will oversee the courts to ensure all members respect the guidelines of play that are set out. All players are asked to comply with the Court Monitor's direction.
If you are unwilling to abide by the format outlined in this document for play at AI (March 25 - May 3) please do not register.

NOTE: MPC has begun scheduling clinics with a qualified NCCP instructor for Novice/Early Intermediates to support player development. Please contact Clinics.MPC@gmail.com if you would be interested in participating.


Board of Directors,
Mono Pickleball Club