Pickleball Tutor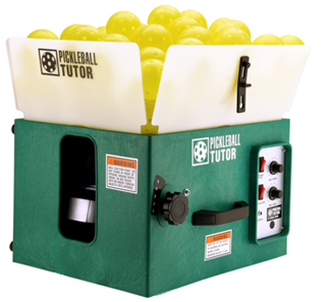 The Pickleball Tutor is Available for Member Use

This machine provides super practice possibilities but remember to "practice with a purpose". Please uses this link for Suggested Skills & Drills:https://pickleballtutor.com/video-playlist/
It is important that you follow all the operating instructions and understand the precautions you must take when using the Tutor. Here are some machine settings. It can only be used on the black asphalt courts and in a manner that does not interfere with other regularly scheduled club events.
If you are using the ball machine, please control your balls. If your balls do happen to go astray and run onto adjacent courts, be sure to call "Ball on Court" to alert other players of the hazard. We don't want any members tripping over loose balls.
Know that the Tutor can injure if not used properly!

Tutor Access
The Pickleball Tutor can really help you improve your game. To use, please plan ahead and make prior arrangements with Bud at bphebner@gmail.com.

Players should read the Pickleball Tutor Precautions page and familiarize themselves with the operation of the machine by getting first use help from Bud or George or another experienced player.