Indoor Play Registration January to April
Reminder: WWPB Club membership is also required for indoor play. Renewals for 2023 have been sent by Pickleball Canada, it covers all three organizations PCO\PMI\WWPB. Memberships are NOT covered by indoor play costs. Be sure you have renewed before coming out in January, PCO liability insurance requirement.
---

We have completed the reconfiguration of our Jan. to April registration. We have everyone in four groups of 19-20 players. One Novice, One Intermediate and two Advanced. These groups are all full, but if you want to spare or be next in line register anyway, wait listing is free.

The Saturday morning - "working members only" group has 1 or 2 spots available.

We have Bruce Oake Recovery Centre for Wednesdays and Fridays only starting January 4th. from 9:00AM to 12:00PM. The Wednesday will be used for Open Play (all club members) and the Friday is a Novice group scheduled day.
The confirmation list will show you others that have registered in each division.

---
Play Time Matrix for February:
Note: Wednesday and Friday at BORC times are now 3 hours 9AM to 12PM .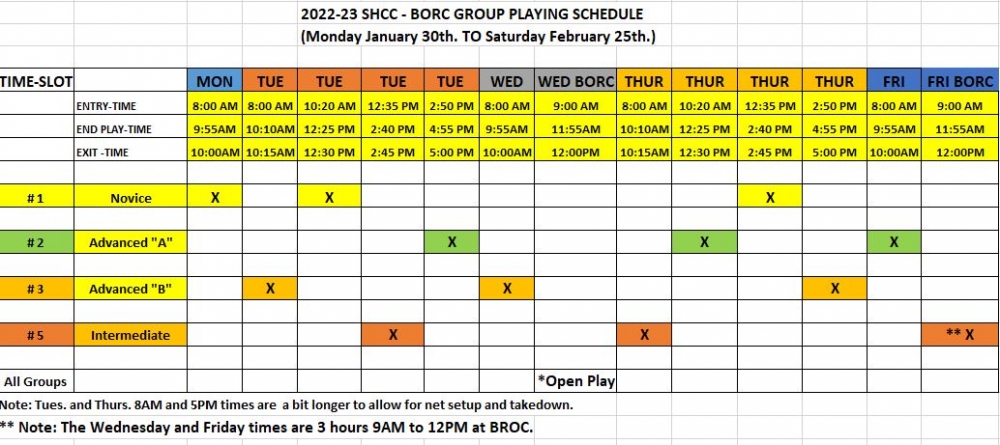 Play Time Matrix for January:
Note: The Novice time has changed and BORC times are now 3 hours 9AM to 12PM .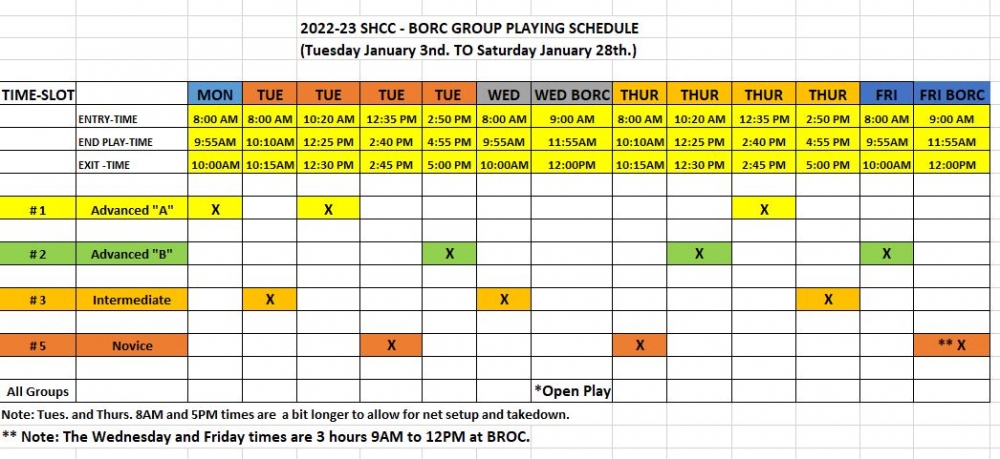 ---

COST:
For January, February, March and April (17 weeks). The cost will be $204.00 plus payment fees of $11.02 ($4.21 day). You will notice a fee increase from $10 to $12 per week. This is due to a 20% increase in gym rental fee from SHCC ($25 to $30 hr. and from $40 to $50 hr. wknds.) for 2023. The payment is prorated weekly to the number of remaining weeks. For four groups we need approximately 75 players to cover our SHCC rental hours and ball expenses (Sat. excluded). BORC play is over and above this cost, unless we have the numbers to create another group there. Please understand, that if we give up hours at SHCC, we may never get them back. So, our priority is to fill SHCC first, then use BORC.
The Saturday morning only slot (17 weeks) is now $119.00 plus payment fees of $6.65 ($7.40 day) (fee up from $40 to $50hr.) also prorated weekly.

None of these slots have "learn to play" time, you must already be a player.