Outdoor Play
Outdoor Play for 2022 is nearing an end!

Outdoor play can continue as the weather permits. Indoor play will commence at Ma Murray on September 26, 2022. Due to the limited courts space, players wishing to play outdoors are still welcome to do so.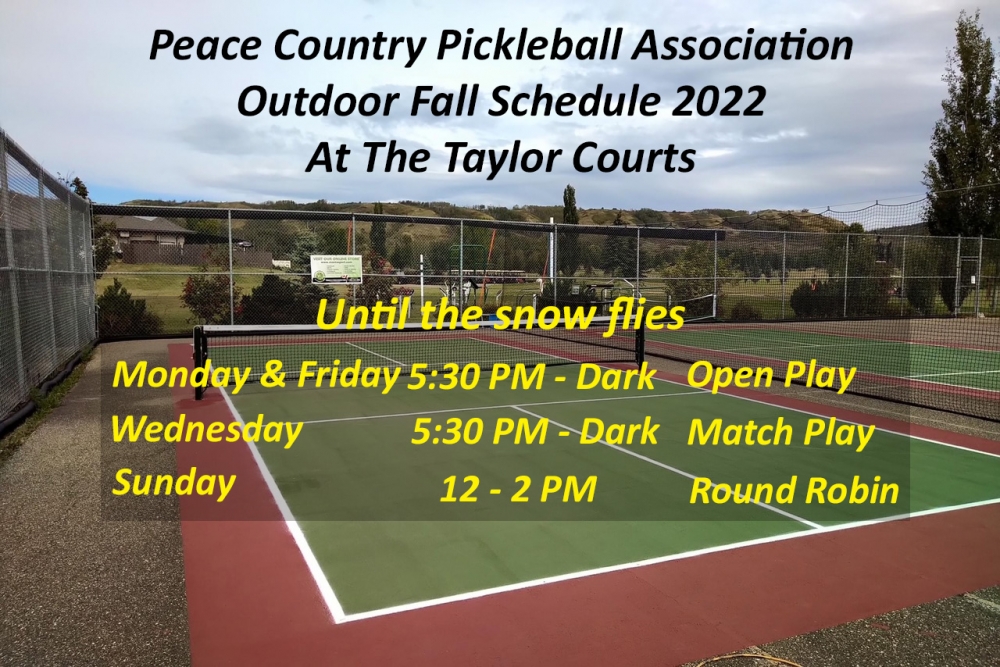 Open play - players rotate on and off the courts using the paddle rack system with winners and non-winners placing their paddles in the upper and lower paddle racks, respectively as they complete their games. Depending on attendance, courts may be split between beginner and intermediate skill levels.
Match Play - also referred to as ladder play. Players are matched by skill level and play a set number of rally scored games to 15 or 21. The lowest scoring player (or players) from each group is bumped down to the next level while the highest scoring players from the lower tiers advance to the next tier or matched group.
Round Robin - Players are assigned a court, partner and opponents using the PBPlay app or similar system. Players are asked to arrive early to warm up and so the player list can be completed by the desired start time. Player are asked to commit to playing a minimum of 1.5 hours on match play days.

Taylor Tennis and Pickleball Courts
Located beside the Lone Wolf Golf Course parking lot, these outdoor courts are considered the home of the Peace Country Pickleball Association. The facility consists of a total of 6 courts. Courts 1 to 4 have painted lines and have painted playing surfaces. Courts 1 to 4 have permanent nets and are separated from adjacent courts by a net screen and tennis net. Courts 5 and 6 have painted lines but the playing surfaces are unpainted and share space with a tennis court. Portable nets are stored at the complex for use when needed. The entire compounded is surrounded by a chain link fence. The west and north sides of the compound have wind screens that are rolled up and down as needed. A permanent wind screen has been attached to some of the south side of the compound.
The facility is property of the District of Taylor and is maintained, under agreement, by the Peace Country Pickleball Association. It is a public facility and open to use by the general public however club members have priority use of the courts. Non-members are welcome to use any of the courts when vacant but when members arrive, they have pick of the courts. Once their current game is finished, non-members must move to another court if requested to do so.


Outdoor play generally occurs from late April to late October as weather conditions permit. During the outdoor season, the club uses the online "Hold My Court" reservation system to book individual courts and time in 1/2 hour increments. Throughout the week periods of court time are also reserved for club play and special events such as tournaments. Outside of club reserved times, members also organize play times using the club Facebook group page and the Messenger group.
Follow the Peace Country Pickleball Association Facebook group page for schedule changes. Players can also message Robin Sipe and request to be included in the Messenger group to get updates.