WHEN AND WHERE WE ARE PLAYING...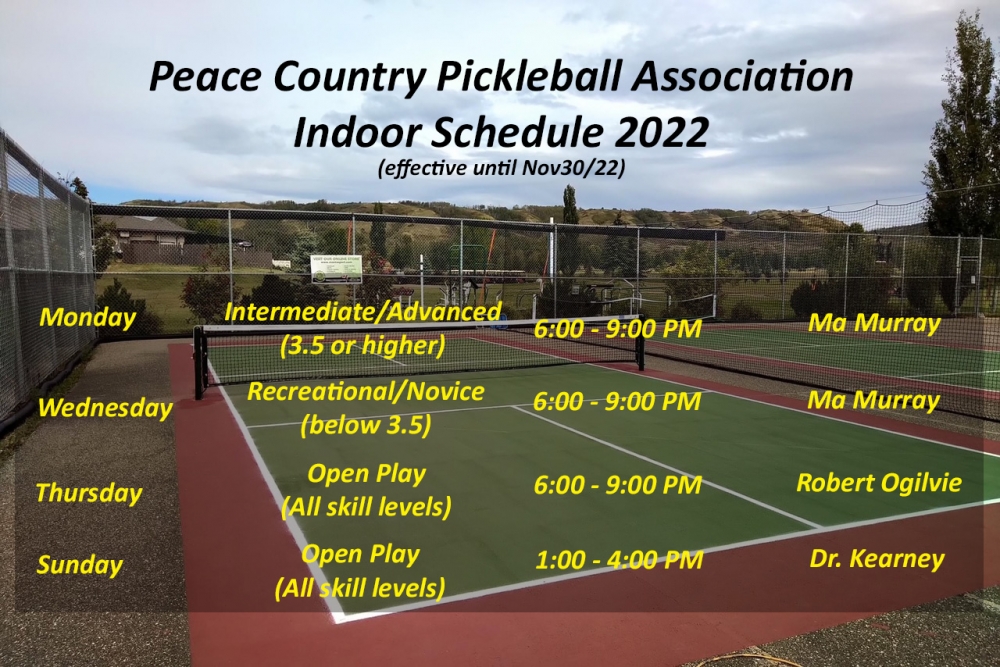 Indoor Play is underway. See the schedule above. It is in effect until the end of November at which time the scheduling of skill levels and venues will be re-examined. Changes may be made where warranted.

Outdoor Play for 2022 is over. We will see you in the spring!
Taylor BC Outdoor Courts (beside Lone Wolf Golf Course Club House).

There are permanent nets set-up on Courts 1 to 4. Net barriers are installed along the borders of Courts 1 & 2 and Courts 3 & 4 giving us 4 enclosed courts. Portable nets are also available for Courts 5 & 6 when needed. The HOLDMYCOURT.com reservation system is activated and can be found at the link below. Open the link, save it to your browser. In order to book a court you must be registered and log in to the site first. To register, select "Log in or register" and system will guide you along. Courts can be booked in 1/2 hour increments for up to 2 hours.
https://holdmycourt.xyz/reserve2/index.php?dir=peacecountrypickleball

Kin Park Courts (west side near 96th Street).
Work on the 4 outdoor courts is continuing. In late October preparation of the concrete surface was completed and the contractor installed the permanent boards that will surround the multiuse hockey/pickleball courts surface. We are hoping construction of the outdoor courts will be completed in early spring 2023.
For a more detailed explanation of the schedules, select the Outdoor or Indoor Schedule tabs above.