2023 Winter Programs
PRI and the Queen City Pickleball Hub (QCPH) are happy to present the 2023 Winter Program Schedule. The recent member survey was a valuable tool in designing these programs. We thank everyone who took the time to provide feedback, your input is important to us!
The key survey themes we received related to programs were:
More options for beginners and developing players.
Less focus on ratings and more focus on fun.
Adequate options for working members (evenings and weekends).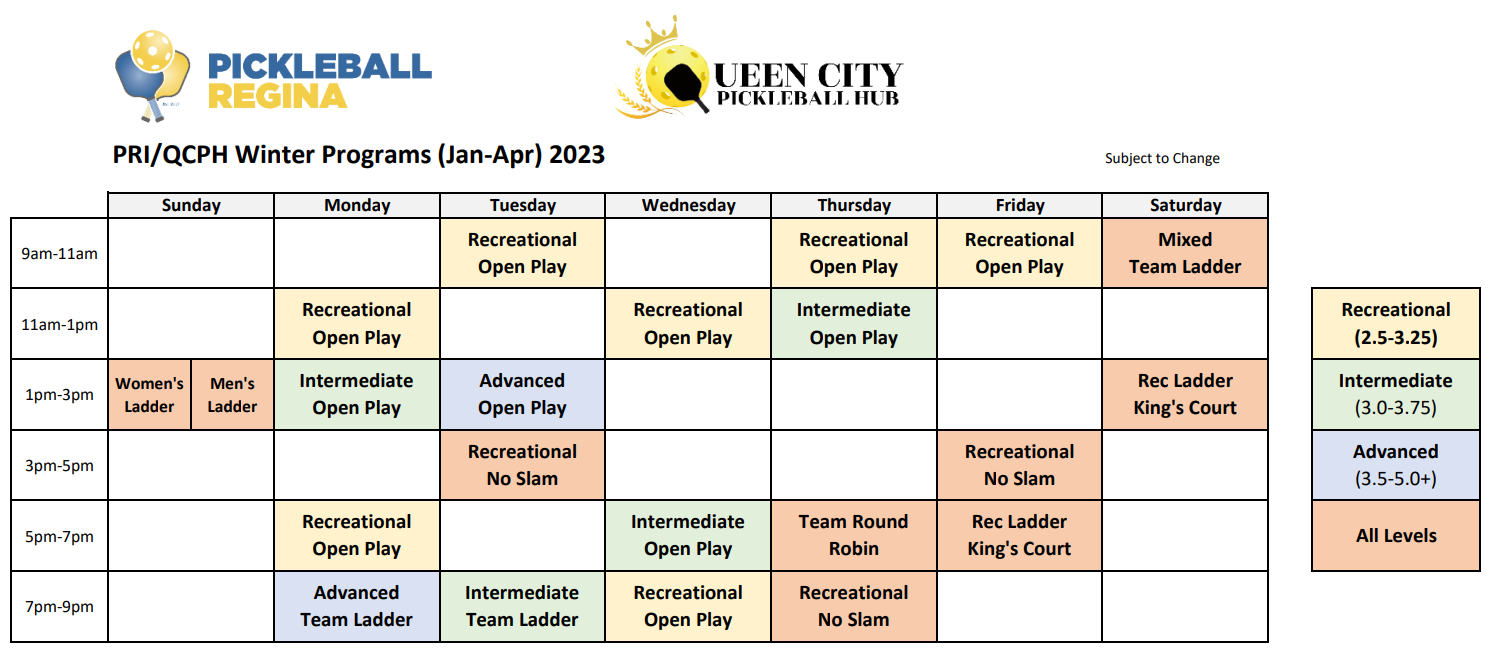 Important Links
Skill Categories - New!

Some of the most enjoyable games are when the outcome could go either way and ratings can be a useful tool when setting up programs. In the past we used strict ratings requirements for programs (e.g. "3.0 Rec Open") with no overlap. While the intent was good, we heard from members that it often became a barrier for them to join programs.
For the 2023 Winter session, we are introducing new skill categories defined as Recreational, Intermediate, and Advanced. We have also provided the rating levels that players should expect in each of these programs.


There is deliberate overlap in the definitions to better accommodate program movement as players improve. We are hopeful this new approach will create more opportunities for everyone to find an appropriate program to participate in.

Groups have been created for each of these skill categories that you can request to join in GPN.

Program & Court Fees

PRI will not be collecting any additional program fees for members to participate in the 2023 Winter programs. Each player will be responsible for their own court fees at the Queen City Pickleball Hub. The QCPH has recently announced updated pricing for 2023 with a variety of options. Click the link below for complete details on their pricing.
Aside from small increases to the hourly rates, the biggest change at the QCPH is the introduction of Prime-Time hours Monday – Thursday, 5pm-9pm. During Prime Time all court fees must be paid in advance, including programs.
There are 3 options to secure a spot in a Prime Time program:
Prepay for the entire 2 month program up front. This will save you 25% off the pay as you go price and guarantees you a spot in the program.
Visit the front desk at the QCPH and have them collect a single punch for any dates that you plan to attend.
Opt-in on GPN for the $11.25 pay as you go price.
Court fees for programs outside of Prime Time can be paid through any of the options above, as well as QCPH monthly passes or drop-in fees at the door when you arrive.

Host Volunteers
Our PRI host volunteers play a vital role in ensuring successful and fun programs for all attendees. They are responsible to check players in, ensure sure balls and equipment are ready and put away after, help players find their courts and other responsibilities. PRI values this contribution and will pay the court fees for our host volunteers. If you are interested in becoming a host volunteer, please contact PRI at membership@pickleballregina.ca indicating which programs you are willing to host.
PRI Membership

All participants in the Winter Programs will need a 2023 PRI membership. Renew now and your membership is valid until the end of 2023. Click the following link to join PRI or renew your membership.
GPN
All programs will continue to be administered through GPN. Click the following link if you need help getting started and instructions on how to opt-in for groups, ladders and events.
Program Descriptions
Open Play - Games are played with a variety of partners to maximize the social aspects of the game and to enhance learning to play with varying styles (usually paddle box [gold/silver], round robin etc).

Rec Ladder – Also known as King's Court. Winners move up a court and split and the losers go down a court and split. Games are time limited, so everyone moves at the same time.
Ladder – Games results are tracked in GPN for the duration of session and a points system (not player ratings) is used to determine weekly ladder movement.
No Slam – New! No-slam pickleball is an instructor led program that is for players that wish to improve their soft game. The host will introduce modified rules that will discourage slamming and work more on ball placement, spin, court positioning and shot combinations. The emphasis will be on fun and giving players more tools to advance their game. Player rotations will be determined using a Gold/Silver paddle box.