 UPDATED - DPA Schedules for June 2023
Use PlayTime Scheduler to book all outdoor DPA sessions
Most sessions are only open to book one week in advance.

Click on this link for instructions on how to set up and use your own free PlayTime Scheduler account
All Play is now Open Social Play - Ladder Play League has been added - click for details
Scroll down for indoor court information

There have been a few cases where members sign up for two different courts at the same time - please don't abuse the system. The other issue is when members book, but don't show up or cancel - please cancel ASAP if you can't make it, so others have an opportunity to play.
Memorial Park - Ladner

DPA scheduled times for May 2023 - Book times using PlayTime Scheduler
Three Dedicated Pickleball Courts, 5010 47 Ave, Delta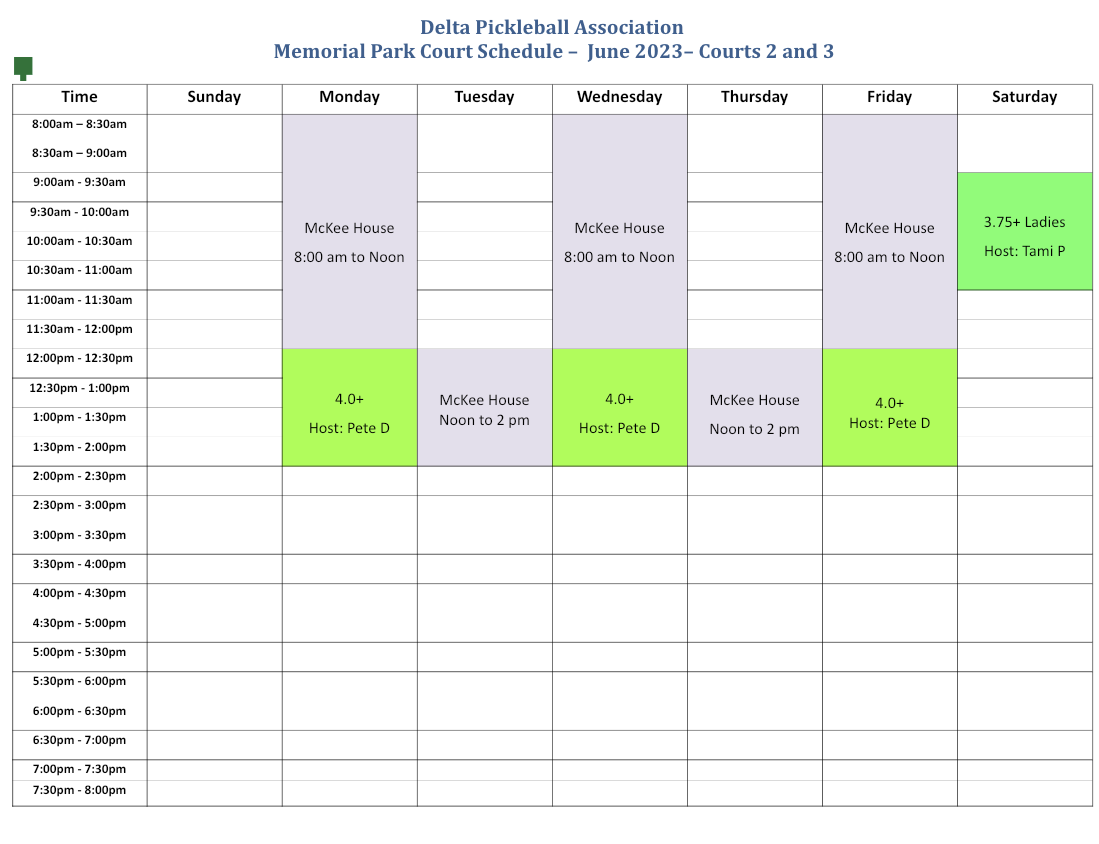 Cromie Park - Ladner
DPA scheduled times for May 2023 - Book times using PlayTime Scheduler
NEW - Ladder play added! click here for special booking instructions
Four Dedicated Pickleball Courts + Six Mixed Use with Portable Nets, 4907 42B Ave. (SW of Ladner Elementary School)

Dennison Park - Tsawwassen
DPA scheduled times for May 2023 - Book times using PlayTime Scheduler
Four Dedicated Pickleball Courts + 6 Mixed use with Portable Nets (8A Ave), 5283 7A Ave. (West of South Delta Secondary School)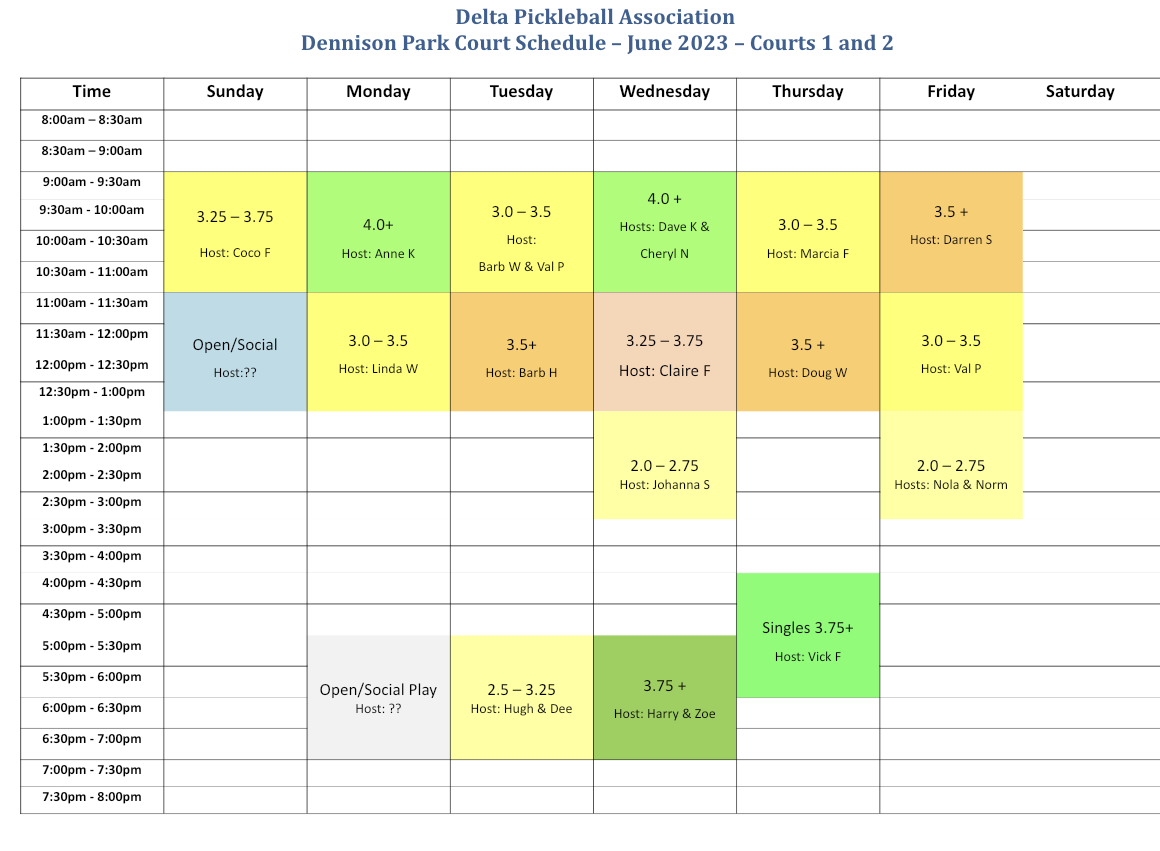 Chalmers Park - North Delta

NEW - Ladder play added! click here for special booking instructions
Book DPA times using PlayTime Scheduler
Eight Dedicated Pickleball Courts - 11400 76A Ave, Delta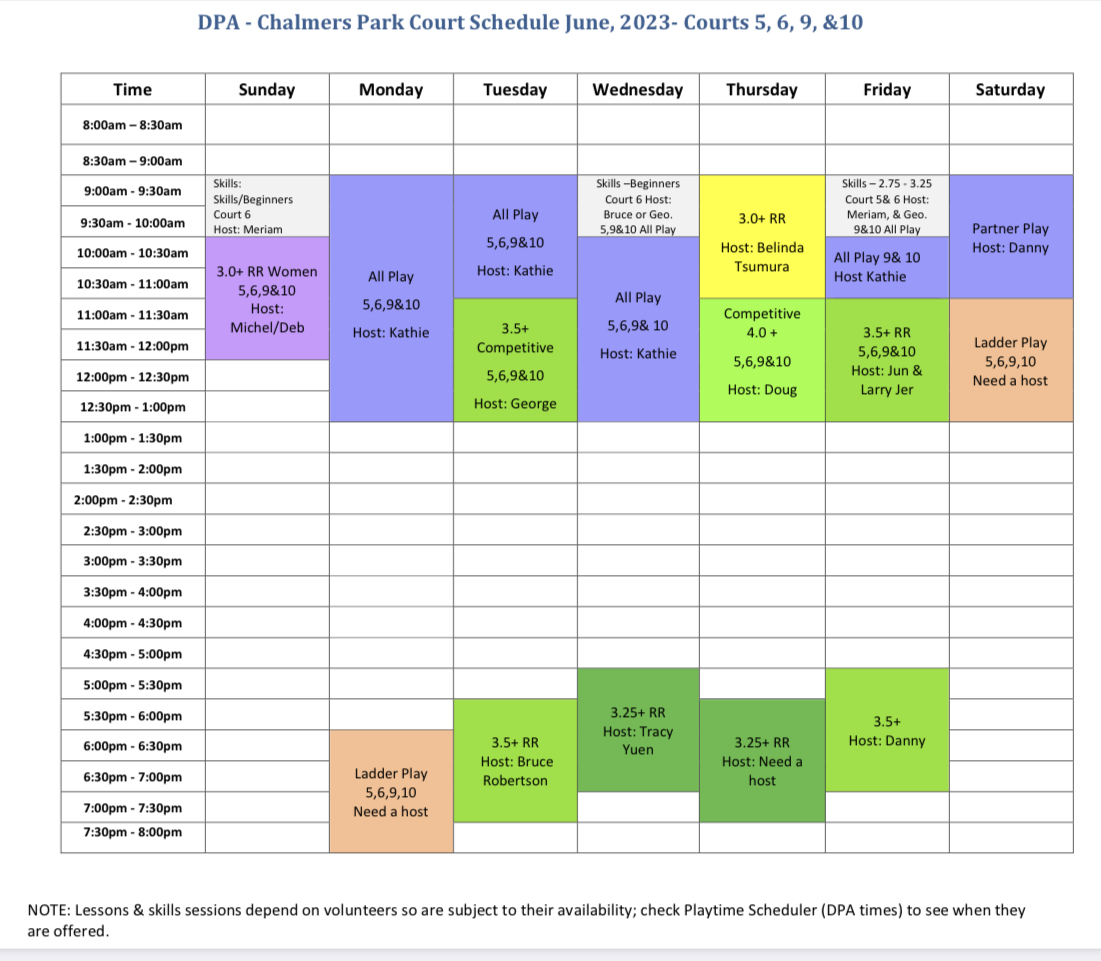 INDOOR COURTS:
Note: This information is provided for information only - DPA does NOT have any control or involvement in these facilities - per session fees apply - Tickets must purchased on line, maximum of 72 hours prior. If you have any questions, check the Delta Parks website - times may vary on holidays and pro-D days
South Delta Rec Centre
1720 56 St., Tsawwassen - 604-952-3020
Click this link for dates and times


Ladner Community Centre
4734 51 St, Delta - 604-946-9226 Click this link for dates and times


Sungod Rec Centre
7815 112 St, Delta - 604-952-3075
Click here for dates and times