Membership
Welcome to the Pickleball Guelph Association (PGA)! We're glad you're here and we hope we can help you achieve what you're looking for. It is our goal to support and sustain all of your pickleball needs in one place and that's here, at the Pickleball Guelph community. Your membership fees support our admin costs, court rentals as well as add to our reserve fund for the development of dedicated courts (indoor & outdoor). We are not-for-profit and all revenue goes right back into supporting pickleball in Guelph.
How to Join
To join the PGA you simply need to be a pickleball enthusiast. As a paid member, you will have access to the 'Members Only' sections of the site where you will be eligible for various benefits and services such as training & development materials, merchandise discounts, special event booking and many others.
Pickleball Guelph works in conjunction with Pickleball Canada and Pickleball Ontario. Your fees include an annual membership to both Pickleball Ontario ($10) and Pickleball Canada ($10) which provides insurance coverage for both the club and each individual member and is needed for the PGA to operate. In addition there are numerous other benefits that can be found at the association websites.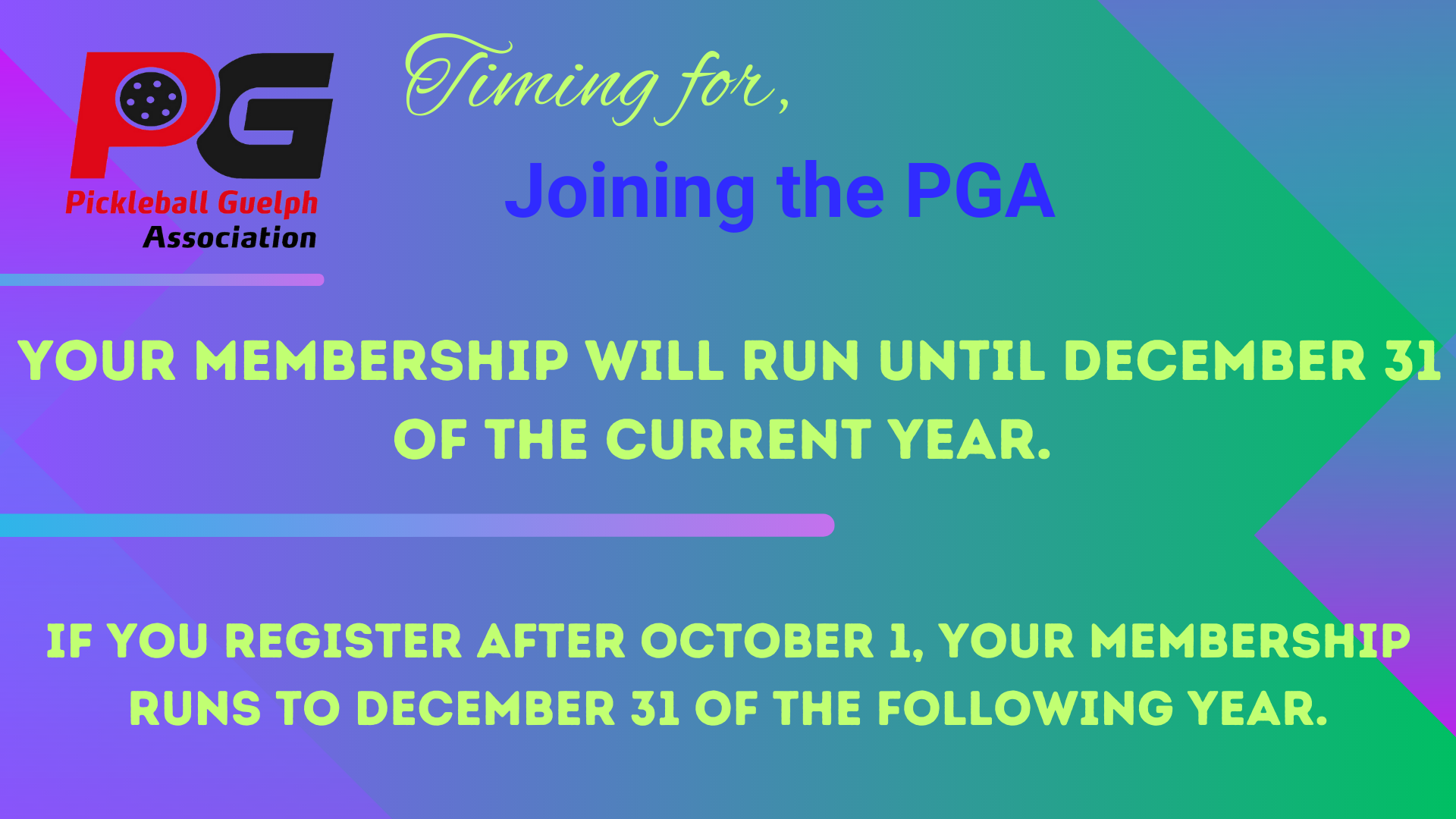 Memberships

New or Renewal members can connect to PGA by going to Pickleball Guelph and clicking on the Join-Renew button. Follow the instructions for your PGA membership and also renew or join Pickleball Canada and Pickleball Ontario.

PGA Member – annual membership fee of $15. These members have access to 'Members Only' services and information and can participate in any PGA organized event or function, often at a reduced rate or no additional cost. Your annual fee includes automatic membership to both Pickleball Ontario and Pickleball Canada.
Non-PGA Members – no membership fee. Non-PGA members will not have access to any of the 'Members Only' areas. However, these members will be added to our database and receive PGA news and have access to general information as well as being able to sign up for various events and activities. It is still possible to join Pickleball Canada or Pickleball Ontario through the Join-Renew process at Pickleball Guelph.
If you have any questions about becoming a PGA member, please send an email to info@pickleballguelph.com