PGA Indoor Play!

---
PGA Indoor Play!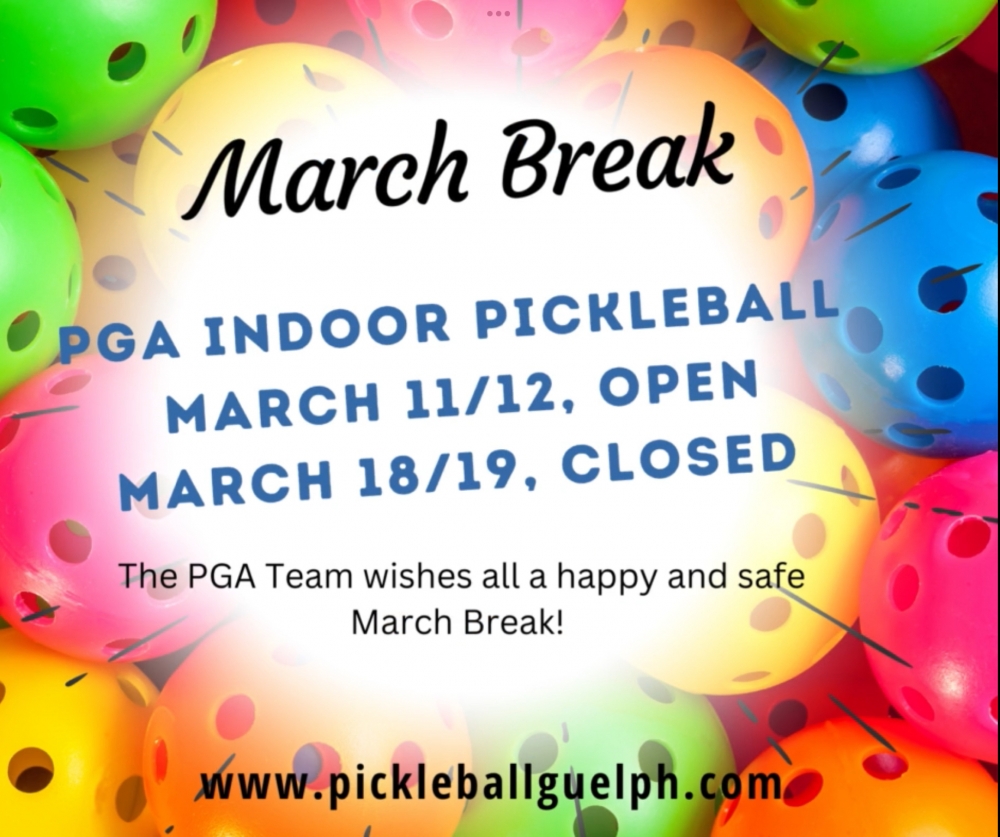 Pickleball Guelph Association has now established indoor playing facilities right here in Guelph!

Links:
Registration for Introduction to Pickleball
PGA Indoor Play Dates 2022 - 2023
There are three courts, for 3 hours, at each of the two Guelph locations!
Sundays 10 am – 1 pm, Westwood Public School, 495 Willow Rd, Guelph
(until noon on January 29th, February 26th, March 26th, and April 30th, the dates of our Intro Sessions)
Saturdays 6:45 pm – 9:45 pm, Mitchell Woods Public School, 670 Willow Rd, Guelph


Level of Play: All levels, ability to play at a similar level by court.


Member Price- $5.00 per session cash at the door. Correct change is appreciated.

Guests Price: $7.00 per session cash at the door. Correct change is appreciated.
We are refining a playing format that accommodates your interest in playing at these times and locations. It is important to ensure the courts are not overbooked or under utilized.
Format Change December 1st, 2022:
Cash at the Door System and Price Change for Weekend Indoor Play
Effective immediately, tickets will not be sold online and players will be required to pay cash at the door. The PGA volunteers can not support the amount of administrative work required for the ticket system. This $1.00 increase will allow the PGA to cover the fees associated with the rent/permits/custodial costs for the 2023 indoor season. All previously purchased tickets will be honoured.
Introduction to Pickleball

Note: currently sold out. Please check back in case of cancellations or added sessions.
Introduction to Pickleball sessions will be held at our Westwood Public School location, on the following Sundays from 11:30 am - 2 pm, by scheduled arrangement. The first half hour on safety and basic instruction will be taught off-court moving to on court instruction at noon.

March 26th, 2023; Full
April 30th, 2023; Full again. (March 15, 6pm)
Please register for the intro sessions online. You will be contacted by email to schedule the next available session. From 10 am until noon, it will be regular play on all three courts at this location. If Players are interested in staying on to assist those learning please speak with the on-site Marshall.
PGA Indoor Play Protocol

Our initial plan is to separate the courts by approximate levels to promote an enjoyable time for all. A whiteboard will be provided to sign up for the next court. Participants will be able to sign in for play on a court of similar playing abilities. A court "Marshall" will be at the gym to help things run smoothly.
Please click here for more information and a message from the PGA Team.
We are excited to be able to provide this playing opportunity.
As the PGA continues to evolve, more events and playing venues will be available. It is a work in progress, and your participation as a member gives us a strong base, a collective voice, and leverage as we continue to grow and provide pickleball services in our community.
We look forward to seeing you at PGA Indoor Play!
Your PGA Events Team