PGA Indoor Play

---
PGA Indoor Play
There are three courts, for 3 hours, at each of the three Guelph locations! Players age 18+.
New Online Pre-Pay Reservation!
The PGA is pleased to announce the implementation of an online registration system with pre-pay admittance for our indoor play. This system will provide a more streamlined experience for our players. Players are requested to select their time slot(s) and pay online. Registration for each play date will open one week before the play date.
Follow this link: PGA Pre-pay Reservations to register and purchase prepaid admittance. Purchases are non-refundable, and your spot is guaranteed. At all locations, we are trying a reduced cap of 20 players for May and June to ensure a high-quality experience.
Drop-ins are accepted if capacity allows, but spots are held for prepaid players.

All Play Times Pricing - Effective May 1, 2023

Online reserved price:
Members $5.50, Guests: $7:50
At Door (cash): Members $6.00, Guests: $8.00

To avoid reservations opening during play time, moving forward pre-pay admittance will open 1 week + 1 hour prior to the play date. Here are the specific times:
Tuesdays at 5pm the Tuesday before the play date.
Wednesdays at 5pm the Wednesday before the play date.
Saturdays at 5pm the Saturday day before the play date. (1 week +1 hour 45 minutes prior)

---
Sundays cancelled for June

Saturdays 6:45 pm – 9:45 pm, Mitchell Woods Public School, 670 Willow Rd, Guelph.
Level of Play: All levels, ability to play at a similar level by court.
---
Holy Trinity Catholic School, 487 Grange Rd, Guelph

Starting Tuesday, April 11, 2013 - Tuesdays 6 pm - 9 pm
Starting Wednesday, May 3rd, 2023 - Wednesdays 6 pm - 9 pm

We are trying a New Format for May and June at these two play times at Holy Trinity. We encourage players of all levels to attend the night that matches their current skill level.

Rookie Rallies Wednesdays: On Wednesdays, beginners and novice players are encouraged to join us for a fun and supportive environment focusing on skill-building and mentorship.

Hot Shots Tuesdays: On Tuesdays, experienced and skilled players are invited to join us for high-energy matches focusing on power, speed, and skill.

Intermediate Players: are encouraged to come on either or both nights, as each offers a different play opportunity. Tuesdays, are a chance to enjoy some faster-paced pickleball along with more advanced players.
Wednesdays also provide an excellent opportunity for more experienced players to practice their 3rd shot drops and accuracy while mentoring and encouraging beginners.
---
Introduction to Pickleball

All scheduled sessions are sold -out. To return in the fall!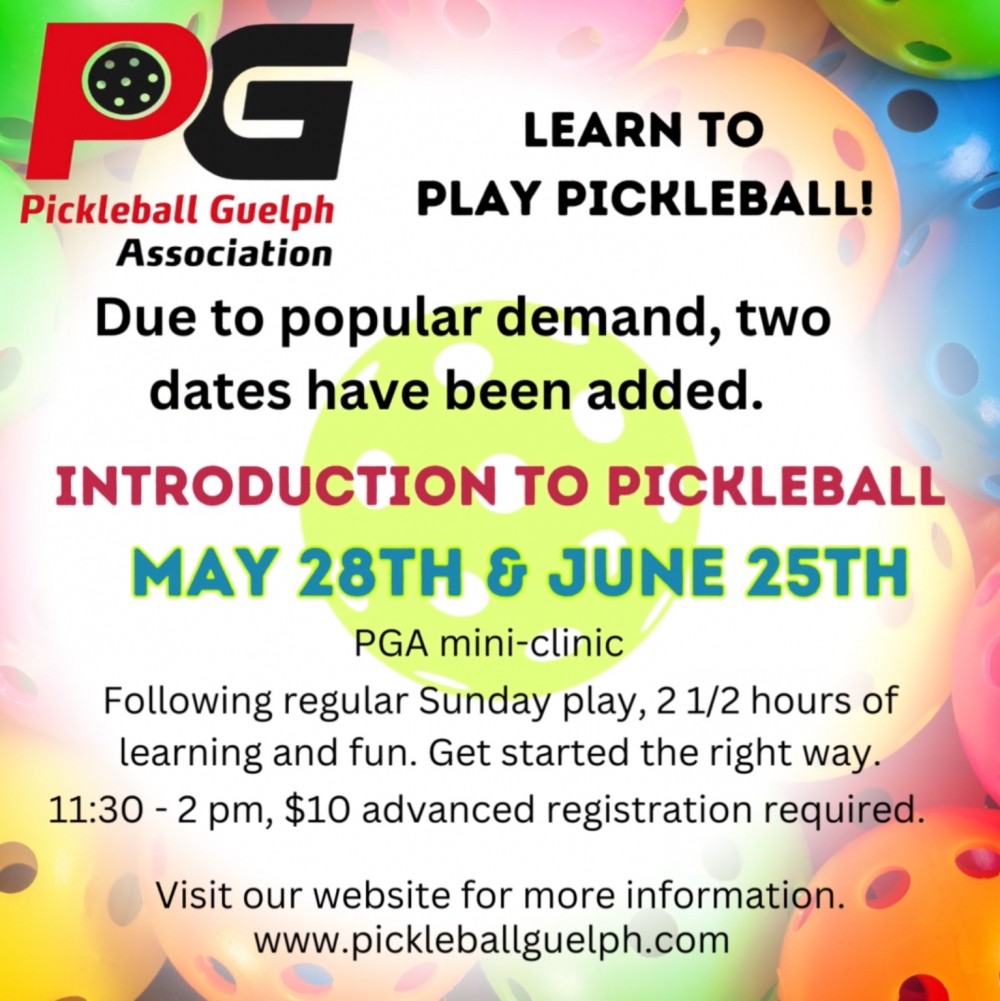 Introduction to Pickleball sessions will be held at our Westwood Public School location, on the following Sundays from 11:30 am - 2 pm, by scheduled arrangement. The first half hour on safety and basic instruction will be taught off-court moving to on court instruction at noon.

April 30th, 2023; Full
May 28th, 2023; Full
June 25th, 2023; Full
Please register for the intro sessions online. You will be contacted by email to schedule the next available session. From 10 am until noon, it will be regular play on all three courts at this location. If Players are interested in staying on to assist those learning please speak with the on-site Marshall.
PGA Indoor Play Protocol

A whiteboard will be provided to sign up for the next court. Participants will be able to sign in for play on a court of similar playing abilities. A court "Marshall" will be at the gym to help things run smoothly.
Please click here for more information and a message from the PGA Team.
We are excited to be able to provide these playing opportunities.
As the PGA continues to evolve, more events and playing venues will be available. It is a work in progress, and your participation as a member gives us a strong base, a collective voice, and leverage as we continue to grow and provide pickleball services in our community.
We look forward to seeing you at PGA Indoor Play!
Your PGA Events Team

Links:
Registration for Introduction to Pickleball
PGA Indoor Play Dates 2022 - 2023