Outdoor Play Schedule Summer 2022
Winnipeg West Pickleball (WWPB) is revamping our play schedule at Bourkevale CC starting Monday June13th.
We are changing to a mix of Social and Competitive play by skill level which will allow players of similar ability to play together, and be more inclusive for newer members. We now have Wednesday evening times.
The club play Calendar (below) consists of League Play Events (competitive), Social (recreational) events and Open booking slots. Members may register for both Social, League or any open spot play weekly.
The skills rating levels for most Social Play and Leagues overlap. This means you have the option of playing in multiple social skill levels and multiple leagues skills levels.
Or, if you want to book outside of these activities choose an open (not colored coded) booking slot (usually courts 5-6). This can be in the same time slot as other activities as long as courts are available.
We want to give you the most options to play at times that work for you.
To promote this philosophy, the Club will use the following skill level categories, called Club Levels: 2.0 (beginner), 2.5 (novice), 3.0 (intermediate), 3.5 (advanced), 4.0, 4.5, and 5.0.
Time slots above 3.5 will be transitioned to club or tournament rated players only.

---
Social Play: Specific times of day are assigned for social play by skill level.
You will continue to use Hold My Court for signup to any of these slots (see calendar below).
Use you current Self rated skill level for Social play (we are NOT policing).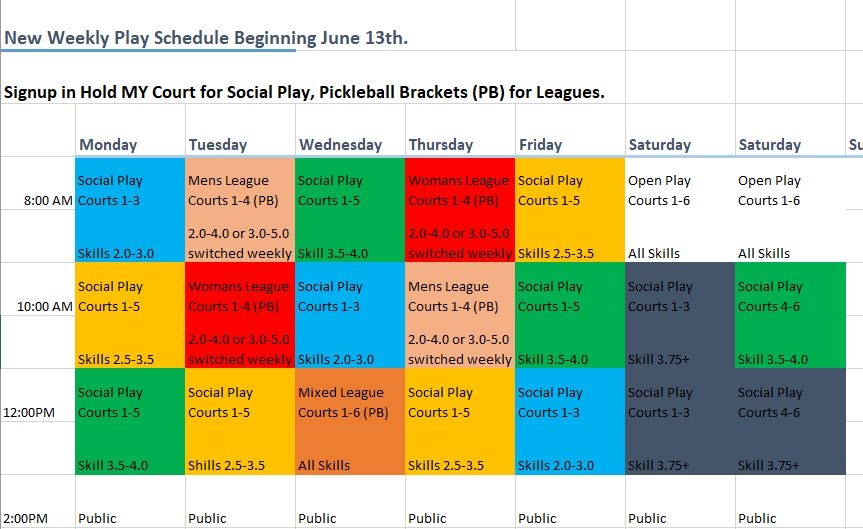 Hold My Court will be reconfigured to correspond to this calendar. Please take note of the color coded player time slots when booking, These are the skill groups. You can see this legend at the top right side of H my C.
All Social skill levels overlap to allow club members to play up or step down.

We encourage all higher level players to play down monthly.


White (no color) player slots in Hold My Court are always available to book for anything (friends \ drills etc.).

---
League play: This will provide competitive game matchups, also allow you to have a documented Club skills rating and move your club rating up a level, should your game results support the higher level. All Leagues will be setup in Pickleball Brackets, so you need to register:
There are 5 leagues active.

Mens Doubles (2)
Womens Doubles (2)
Mixed Doubles (Co-Ed) (1)
We will provide wide levels of registration for League Events e.g. you can register for both Women's Doubles 3.0-5.0 or 2.0–4.0 if you are a 3.0-3.5 player. This will make it easier to move up in skill level and not have to change leagues, and allow you a greater choice of when to play.
If your current skill rating overlaps into both leagues you can register in both, then play at whatever time suites you on a particular day for that week.
Only Men's and Woman's leagues will be used for club skills ratings. The Mixed (Co-Ed) Fun League will not.
You must play League or Tournaments to have a documented club skill rating.
Your self skill rating when you join Pickleball Brackets will be your starting skill level for leagues. After your first league game you will have a new 8 digit performance club skills rating (e.g. 3.3675356) in addition to your current self assigned or earned PCO sanctioned tournament 2 digit rating. They do not have to match.
See our Join Pickleball Brackets page for more information. (signing up, joining leagues rating detail etc.)