 UPDATED - DPA Schedules for April 2023
Memorial Park - Ladner

DPA scheduled times start April 3, 2023 - Book times using PlayTimeScheduler
Three Dedicated Pickleball Courts, 5010 47 Ave, Delta -

Cromie Park - Ladner
DPA scheduled times start April 1, 2023 - Book times using PlayTimeScheduler
Four Dedicated Pickleball Courts + Six Mixed Use with Portable Nets, 4907 42B Ave. (SW of Ladner Elementary School)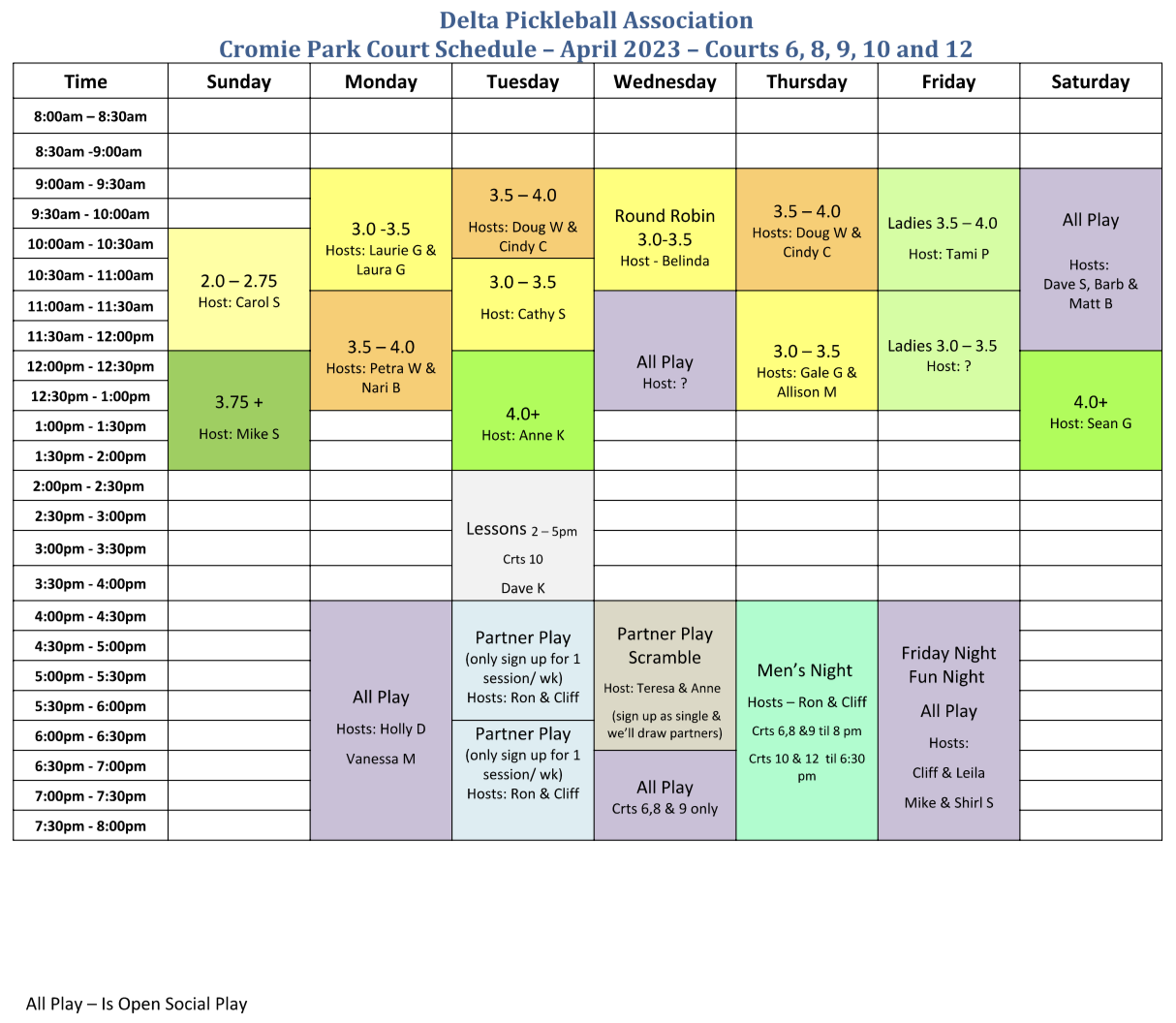 Dennison Park - Tsawwassen
DPA scheduled times start April 2, 2023 - Book times using PlayTimeScheduler
Four Dedicated Pickleball Courts + 6 Mixed use with Portable Nets (8A Ave), 5283 7A Ave. (West of South Delta Secondary School)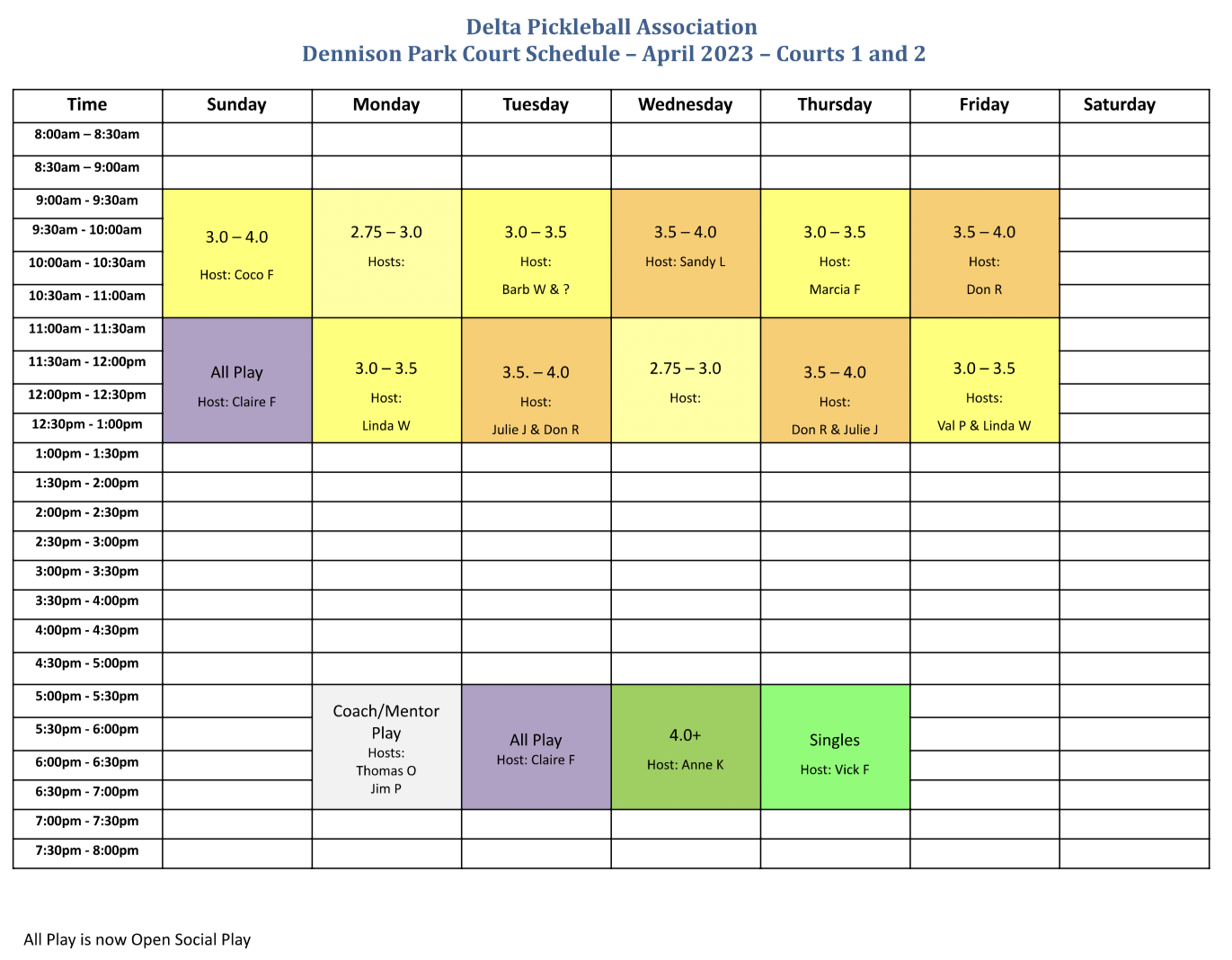 Chalmers Park - North Delta

DPA scheduled times start April 1, 2023 - Book times using PlayTimeScheduler
Eight Dedicated Pickleball Courts - 11400 76A Ave, Delta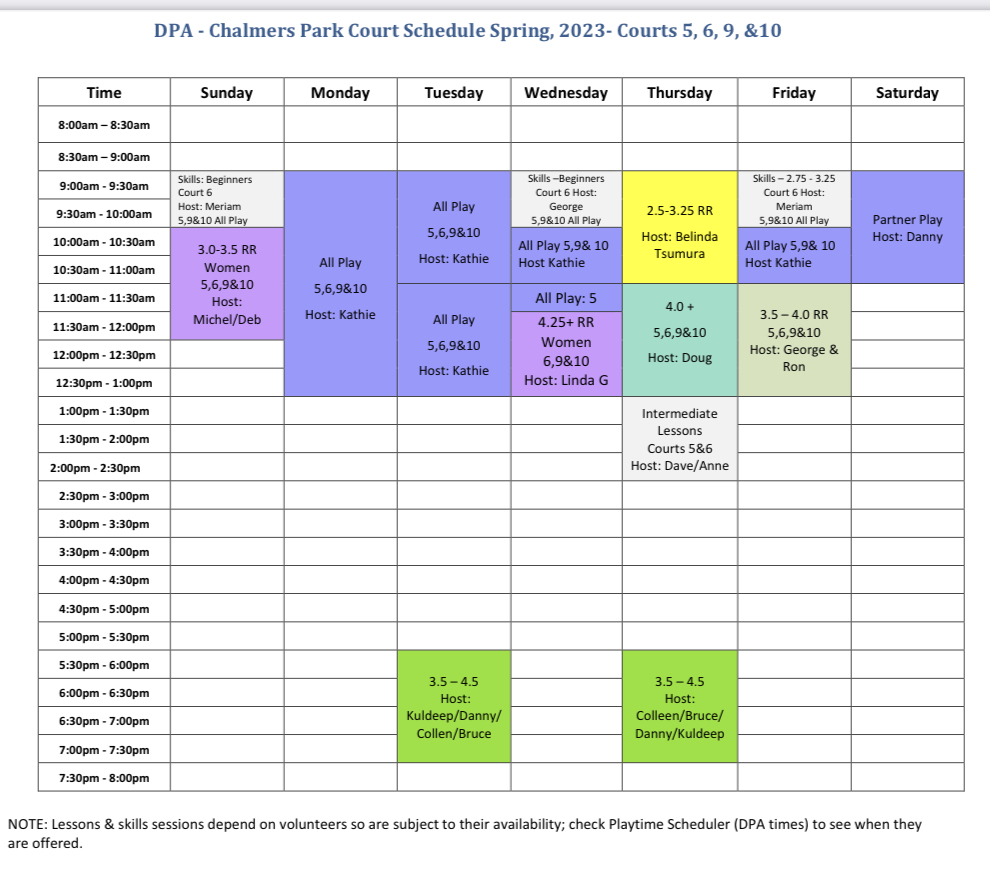 Ladner Covered Lacrosse Box - UPDATED Jan 16/23
4600 Clarence Taylor Cres, Ladner - outdoor covered multi sport facility - 4 courts
There are currently no DPA dedicated times at this facility. However, members are welcome to use it during public hours of Monday, Tuesday, Thursday, and Friday 9:00am>4:00pm; Wednesday 11:30am>4:00pm; Saturday 5:00pm>9:00pm; and Sunday 8:00pm>9:00pm.
DPA have set up some sessions during these public times using Play Time Scheduler. During these DPA sessions, temporary lines and portable nets will be provided. Hope you can take advantage of them.
Initially there will be no additional cost to members using these covered, lit courts. At this time, and until we prove actual use of the facility for Pickleball, the City will not paint court lines, therefore users have been using chalk lines and personal portable nets. This facility is very useful when it's raining or outdoor courts are wet. Lighting is not up to an ideal level, but usable for casual play.
North Delta Secondary
Eight resurfaced (2021) combination tennis/pickleball courts with portable nets.
11447 82 Ave, Delta
at this time, DPA does not have reserved times at this facility