Markham Pickleball Club - Members Only Court Hours
Cornell Community Park Pickleball Courts is open daily from 7am to 11pm, 7 days a week. However, during club hours (shown below), ONLY MPC members and REGISTERED GUESTS can play on the courts. Members that have paid the Outdoor Court fee will be given a shoe tag that must be worn at all times and will also be emailed a confidential gate code to access the courts. For insurance reasons, restricted access will be enforced and non-conforming members will lose their playing privileges. It is expected that all members will uphold these rules.
Please note, if you have not picked up your shoe tag, you may do so during the Hosted hours noted below.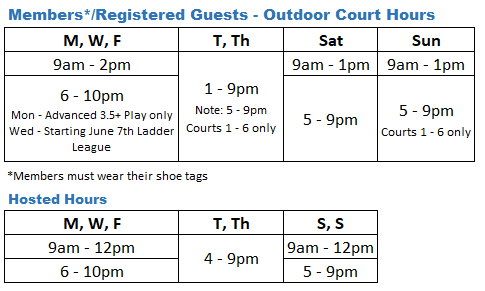 All hours between 7am and 11pm not shown above are open for PUBLIC PLAY.