INDOOR PLAY INFO
Registration for our January to April Sessions is currently wait list only. Wait listing is free, so if you want to spare or be next in line, signup.
More Information and Registration here:

---
Drop-in Open Play at BORC is available for all club members. Sign up required. We will collect a $5 drop-in donation fee.

Starting Wednesday Jan. 4th. at 9:00AM to 12:00PM.

This is a great time to record DUPR games. See information here.
---
Open Play for all Club Members at Sturgeon Heights CC:
Saturday at 8AM-10AM –Play for all club members, signup genius will be used to limit to 3 extra players to supplement the existing Saturday players. So, if you're available on Saturday mornings, come on out!
---
Drill the Skill Sessions at The Bruce Oake Recovery Centre. (Finished for this session)
As a part of our evolving Pickle Skills - Player Development Program, we want to advise Winnipeg West members of another opportunity to grow your game.
---
Sturgeon Heights CC, indoor Play Monday, Tuesday, Wednesday, Thursday, Friday, Saturday. October 3rd to April 30th 2022-23.

SHCC procedures:
Enter the building using the west side door by the hockey rinks.




Leave shoes etc. under the benches, take valuables with you.

All washrooms are open this year, change rooms may not be available, due to construction.

Please arrive and depart the building on time to reduce congestion in the entry areas.


Parking is in the lane along the rinks and also in front of the building.
---
The Bruce Oake recovery Centre indoor play Monday, Wednesday, Friday at starting October 3rd to April 30th 2022-23.

Bruce Oake Procedures:



Enter using the gym door on the West side close to the parking area.
Leave outdoor shoes in the entrance area.
Arrive and depart the facility at your designated times to reduce congestion in the entry area.
Gym washrooms are open, with included change areas.
Parking information, please read.

---
Indoor Schedule for April 2023.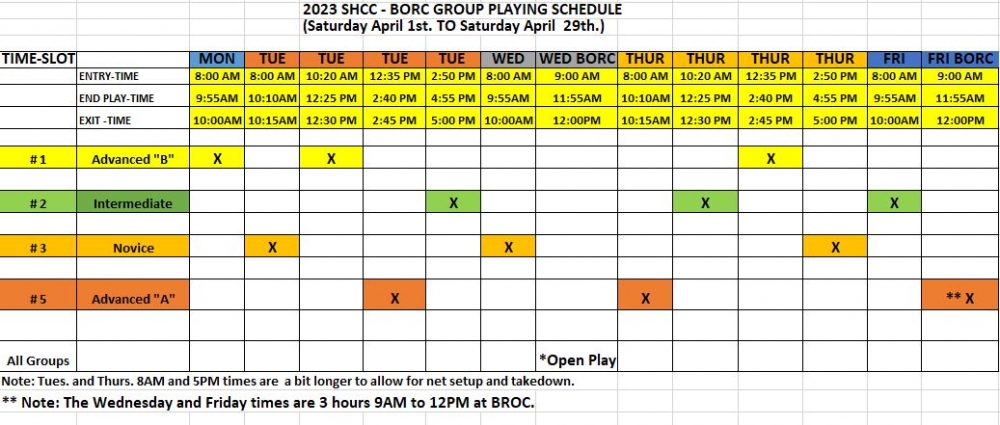 Indoor Schedule for March 2023.