Court schedule and play format
Edmonton Pickleball Club will close the Royal Gardens courts until at least May 24th. Read more.
Court schedule for Royal Gardens courts
4030 117 Street Edmonton
Our outdoor Royal Gardens Court Schedule offers supervised play seven days a week. The courts have lighting for evening play.
Most of our outdoor court schedule is Round Robin Doubles Play with some Ladder Play and Open Play also scheduled. However, there is NO DROP IN PLAY while COVID 19 restrictions are in place.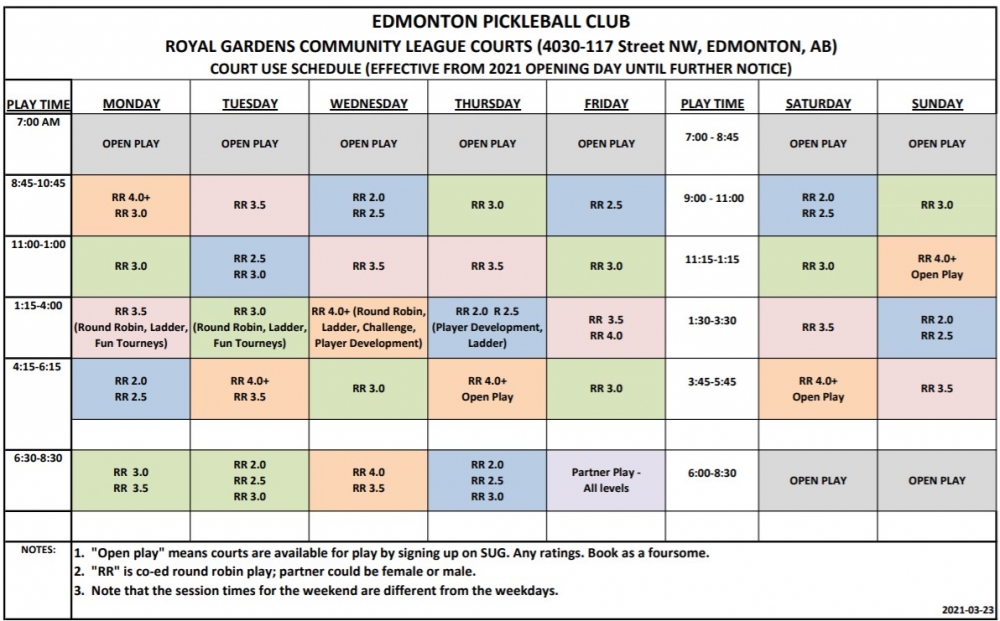 Plans for 2021 Royal Gardens court schedule
The 2021 Royal Gardens Court Schedule will feature mostly 2 hour sessions with 15 minutes of changeover time between sessions.
Each weekday, one rating group will have a longer session from 1:15 to 4:00. This longer session is needed to accommodate Ladder Play. When there is no scheduled Ladder Play on a given day, these longer sessions will be for mini tournaments, challenge courts, player development, tournament readiness, singles play, partner practice, etc.
The 2021 court schedule will also have a sprinkling of scheduled times for Open Play. However, Open Play is not Drop In Play.
Scheduled play at additional locations will be posted when it becomes available.

Types of play
Round Robin (RR)
A "Round Robin" (RR) is a structured form of play organised by skill levels. In the time allocated to each Round Robin session, you will play six games, each with a different partner and against a different pair of opponents. It is designed so that all players are playing against players of roughly equal ability, which makes play the most fun and is reasonably competitive for the majority of players.
When you arrive, you will be assigned a player number. Your number remains yours throughout the session and dictates which court you play on, with whom you are playing as a partner and against which opponents you will play.
Round Robin Draw Sheets are used to determine the order of play.
Open Play
In 2021, we will offer limited Open Play opportunities. Open Play is not Drop In Play. In Open Play, members must sign up for Open Play sessions on Sign Up Genius just as they would for other doubles sessions. Members are encouraged to sign up as doubles pairs or as foursomes.
Ladder Play for 3.0, 3.5 and 4.0+
A pickleball ladder is a system for ranking a group of pickleball players. Players are arranged like rungs of a ladder and as a player wins or loses, the player moves up or down in the position on the pickleball ladder.
This format uses the same basic format of a Round Robin with the scores being kept and recorded by the Club and the total points for each player will create a "win percentage handicap" that will be kept throughout the season. Over time, your "handicap" can move you up and down the ladder as it will place you in similar groupings over the season to keep your games most challenging and interesting. We use Track It Hub software for ladder play.
No Drop In Play
COVID-19 restrictions require there be no casual or drop in play. All play must be by prior sign up using Sign Up Genius and all play must be under the direct supervision of a court monitor.