Sign up to play
We use CourtReserve, and only CourtReserve, for all events at EPC controlled facilities because of the many advantages it provides to the scheduler and players.
You MUST HAVE A COURTRESERVE ACCOUNT to register and play. There's no alternative.
Below are useful links to CourtReserve. You can use the web app, phone app, or both.

Direct link to the Edmonton Pickleball Club web app (from desktop or laptop) >


CourtReserve - Edmonton Pickleball Club portal

Here's the page you will see.




If you are a new member, simply click Create

Account

and follow the instructions.
If you already have an account, simply click Log In . If you forgot your password, just reset it.


For the smart phone app, follow the link below. On the page, just pick the link for Apple or Android. Get it if you have a smart phone. It's very useful.
Link to mobile apps

From the phone app, you can reset your password (Forgot Password?) or create an Account (Don't have an Account?).
Using CourtReserve (iPhone app shown)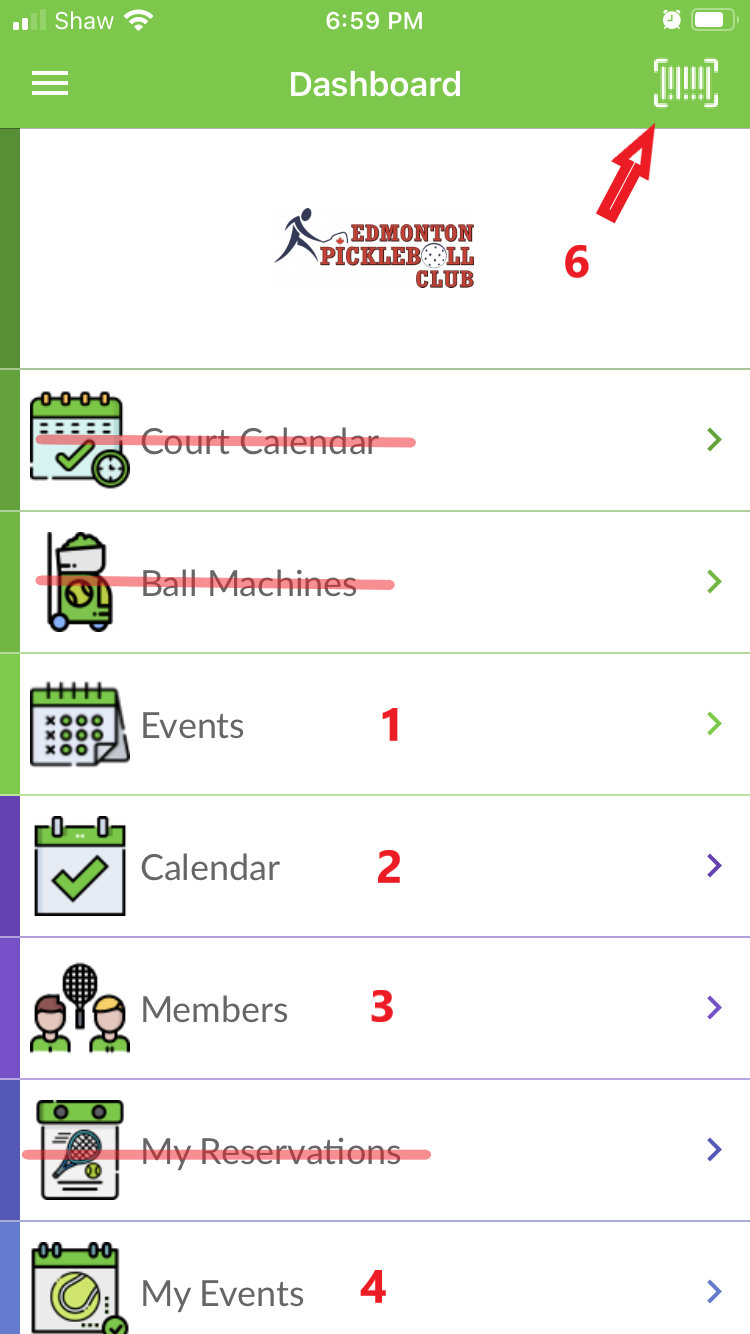 Here's what important in the Dashboard
EPC does not use the features crossed on the image. Don't waste you time there. The useful tabs are:
Events -
Everything we schedule in CourtReserve is an event; Round Robins, Ladder play, Rating Clinics, Development Clinics, whatever.


Calendar -
Calendar is a nice overview of the day, week, month. I find the month view confusing. Avoid it.
You can register to an event by clicking on it.


Members -
Members are listed by rating skills. Some members are not listed because they chose to hide their personal information from the club.


My Events -
What ever event you register to will show in this tab. On top of My Events page are 3 tabs; Upcoming, Past and Waitlist.


My Account -
You likely have to scroll down to see this tab.
This is all about your info.

Announcements -
This tab is not shown because there was no announcement at the time. It would be at the top. It's the easiest way for the scheduler to contact everyone quickly. A red dot besides this tab means there one or more message(s) you haven't read.
It's an important tab.


Registering for Events -

Registration opens on Sundays 8 pm, for all the routine events of the coming week, Monday to Sunday. Events List shows the next 14 days. The calendar always shows everything scheduled. You can tell if an event is locked or not because it will show a message like "Registration opens 6 days and 20 hours"

Non-routine events like rating clinics or development clinics are opened as soon as practicable. We want and sometimes need full participation for them to run.

CourtReserve came about in 2016. It's a mature app and it's use is fairly intuitive. You have to try things. It's not going to hurt anything.

Enough for now.
Thanks,
Raymond Latour